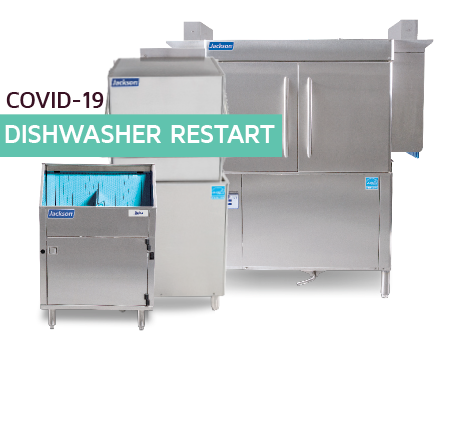 COVID-19
DISHWASHER RESTART
We are living in uncertain and trying times. Everything has changed. From the way we shop to the way we work. At Jackson, we know these times have been especially challenging for foodservice operations. Over the next few weeks, businesses are re-opening, getting back to (the new) normal. Whether you have operated at less-than-normal capacity, or had to place your kitchen on hold for a short time, you need to know the proper steps to re-open your foodservice operation, including your dish room. When your dishwasher hasn't been used or has been used less frequently than normal, it requires a proper restart for the safety of your guests and your employees. We can help!
Begin by disinfecting and sanitizing dish room, including handles, switches, faucets, and of course, your dishwasher.
A thorough deliming will help to eliminate any scale or foodsoil that may be present. Instructions for deliming can be found on the Operation Guide for your model. Search for your model here on our website.
Ensure that all exhaust fans/hoods are running properly.
Ensure that all chemical dispensers are working properly.
If you find that you need the assistance of a service technician, you can find your local Jackson ASA here.
For information regarding your entire foodservice operation startup, the National Restaurant Association has put together a great resource that can be found here.
https://www.jacksonwws.com/wp-content/uploads/2020/05/COVID19RESTARTFEATUREIMAGE.png
434
460
kpenney
https://www.jacksonwws.com/wp-content/uploads/2022/10/download.png
kpenney
2020-05-06 11:57:51
2020-06-19 18:59:00
Dishwasher Restart